VI ZASLUŽUJETE DA U WC ODETE BEZ STRAHA
Hronične bolesti creva muče Amerikance svih uzrasta kao ni jedna druga bolest. Heoničan zatvor jedan je od najčešćih gastrointestinalnih problema, od kojih boluje oko 42 milijona ljudi u Americi
"Studije procenjuju da IBS utiče na 10 do 15 posto odraslih Amerikanaca [32 do 48 milijona ljudi]. Međutim, samo 5 do 7 posto odraslih Amerikanaca su dobili dijagnozu "
"Oko 75 posto ljudi će imati hemoroide u nekom trenutku u njihovom životu"
"Oko polovice ljudi između 60 i 80 godina će imati divertikularnu bolest"
Razmera ove epidemije naviše su vidljeve u apotekama gde police sa laksativima zauzimaju naveći prostor i imaju najviše proizvoda.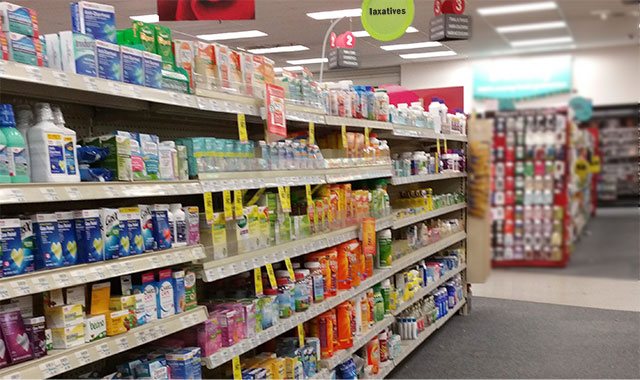 Da le si ko zapitao  – kako je moguće da Amerika koja je još 1969 godine otišla i vratila se sa Meseca četrdeset pet godina posle toga nije u stanju sprečiti i razrešiti misteriju vezanu za kolorektalne probleme bez upotrebe ogromnih količina toksičnih laksativa?
Odgovor je jednostavniji nego što mislite medjutim gastroenterolozi ne samo da nemaju pravo rešenje već razuličitim sredstvima i pogrešnim savetima u pogledu ishrane često naprave više problema nego da ništa nisu radili.
To je jednostavno nezamislivo da toliko milijuni ljudi će patiti od načina života povezanog s kolorektalnim poremećaja, ako su njihovi liječnici imali pojma. Imajući to na umu, molimo vas da obustavi svoj sud za neko vrijeme i proučavati sljedeća poglavlja s koliko truda i intenziteta kao što će se primjenjivati ​​na pronalaženju "dobar liječnik" koji ne mogu postojati:
Kako bi se normaliziralo stolice i vraćanje prirodne stolice
Dijetalna vlakna, osam čaša vode, a low-fat dijeta – su svete krave u američke prehrambene dogme – krše prirodne pokrete crijeva i uzrokovati teške stolice, nepravilnosti, zatvor, ili zatvor-IBS. Kada pacijenti potražiti liječničku pomoć, rutinski se preporuča dodati više vlakana, pijte više vode i smanjiti masnoće čak i dalje.
Ova pogrešna i štetna savjet jamči hemoroide i diverticulosis na gotovo svakoga, a to je iza epidemije upalne bolesti crijeva i raka debelog crijeva. Ovo poglavlje osuđuje ovaj svinja glave prakse i uči vas kako vratiti prirodne stolice bez pribjegavanja vlaknima i laksativa. Pročitajte …
Bikovi 'S..t u Kini Shop
Bikovi na blagdan trave i sijena – kao vlaknasta dijeta kao što dobiva. Nije iznenađujuće, izmet bikovi 'su velike, a nešto slično vlakana natovaren stolicama ljudi. Ova "in-your-face 'naslov je igra riječi na tri istovremene ironija – zdravstveno-svjesni Amerikanaca pada za popularne' bika 'o vlaknima, jesti bull-poput prehrane, i pate od bull-poput stolica, – The' geneza 'od praktički sve debelog poremećaja.
Ovaj odjeljak također identificira vlakana kao ključnog pokretačka snaga epidemije autizma , juvenilni dijabetes , te sveprisutnim PMS . Pročitajte …
Kako Revitalizirajte crijevne flore
Zdrave, crijevne bakterije su od vitalnog značaja za formiranje stolice, održavanje imuniteta, sintezu esencijalne vitamine i zaštitu debelo crijevo od raka.
Nakon dobili bakterije oštetili antibiotika, laksativ, teških metala, operacije, ili colonoscopies, vlakna uglavnom se preporučuje da se formira stolice umjesto.
No, za razliku od živih bakterija, vlakana ne može izvesti bilo koji od bakterijskih funkcija koje su apsolutno neophodni za druge nego glomaznost-up stolice i poticanju pražnjenje crijeva kod ljudi. Gubitak tih funkcija doprinosi oštećenom imuniteta, dijabetesa, pretilosti, gubitak kose, ekcema, seboreje, anemija, unutarnjeg krvarenja, čireva, moždanog udara, raka, i zajedničkog gastrointestinalnog, respiratornog i autoimunih poremećaja.
Unatoč svim tim dobro poznatih i temeljito proučavali činjenica, američki medicinski establišment uporno odbija priznati ulogu crijevne flore u zdravlju i dugovječnosti, i čini sve što je moguće da unište bakterije s bezobzirnog korištenja antibiotika počevši doslovno od rođenja. Zatim, ona profitira enormno od liječenja proizlaze bolesti. Ovo poglavlje ocrtava ulogu crijevne flore u ljudskom zdravlju i objašnjava kako ga vratiti. Pročitajte …
Kako vratiti anorcktalna Osjetljivost
Za očuvanje cjeloživotno debelog zdravlje i spriječiti rak debelog crijeva, zdrava osoba trebala kretati crijeva nakon svakog velikog obroka, ili barem dva puta dnevno. Budući da su okolnosti rijetko idealni, mnogi ljudi imaju tendenciju da se potisnuti poziva i preskočiti stolice. To dovodi do stvrdnjavanja stolice, naprezanje, proširene hemoroide i oštećenja živaca anorcktalna – osnovnih uvjeta iza sindrom iritabilnog crijeva i kroničnog zatvora. Konačno, jednog dana, vlakna ili laksativi su potrebne za pokretanje crijeva, jer je nagon senzacija borac za dobro. Ovo poglavlje će vam pomoći vratiti osjetljivost anorektalnoj bez pribjegavanja vlaknima i / ili laksativima. Pročitajte …
Kako da prevladaju vlakna ovisnost
Vlakna bulks do stolice. Povećani stolice transformirati kolorektalnog organe i izazvati fizičku ovisnost o vlaknima za pomicanje crijeva. Ta ovisnost je slično droge, duhana ili ovisnosti o alkoholu: ne vlakana – nema stolica, nema stolice – bez go … Ovaj ishod je dobro poznata svakome tko to nije low-carbs dijeta zbog teškog zatvor ili rock-hard , male stolice.
Ovo poglavlje objašnjava kako riješiti ovaj nezdravu ovisnost o vlaknima bez pribjegavanja laksative. Bitno je za svakoga tko želi smanjiti potrošnju vlakana, a posebno je korisna za ljude koji žele izgubiti na težini slijedeći popularne low-ugljikohidrate dijeta. Pročitajte …
Op.a.
Ne tako davno, pelena za odrasle postojao prije svega u Saturday Night Live skečevima. Danas crijeva inkontinencija pogađa do 10 posto odraslih muškaraca i do 15 posto odraslih žena [ veza ].
Po svim mjerilima, ove brojke su šokantne. Pogledao sam gore izdanje 1972. The Merck Manual dijagnoze i terapije vodeći -U svjetski medicinski referentna i nije mogao naći jednu spominjanje izraza "fekalne inkontinencije" ne postoji. Dvije generacije kasnije, pelena za odrasle zauzimaju jedno od najvećih sekcija u našem susjedstvu apoteci:
odrasle pelene u supermarketu
Ne postoji nedostatak "modernih" nepropusnim rubljem za oba spola.
I dok Amerikanci starimo, opseg ovog problema postaje još šokantno: "Dva staračkom domu studije utvrdile prevalencija je 45,0% do 47,0% crijeva inkontinencije među stanovnicima" [ Veza ].
Ako planirate otići jedan dan, a željeli uživati ​​u plijen svoj trud i sretno, ova stranica će vam pomoći uzimajući tamo bez nošenja pelena.
Konstantin Monastyrsky,
Autor Fiber prijetnja i GutSense.org
YOU DESERVE TO BE FREE OF THE DREAD OF GOING (OR NOT GOING) TO THE BATHROOM!
Chronic gut disorders terrorize Americans of all stripes like no other plague. Just consider the epidemiology of the four most prevalent conditions, courtesy of the National Institute of Diabetes and Digestive and Kidney Diseases:
Nowhere is this epidemic as noticeable as inside any "big chain" drugstore. At our local pharmacy, for example, the laxative department is one of the largest single-condition sections in the entire store: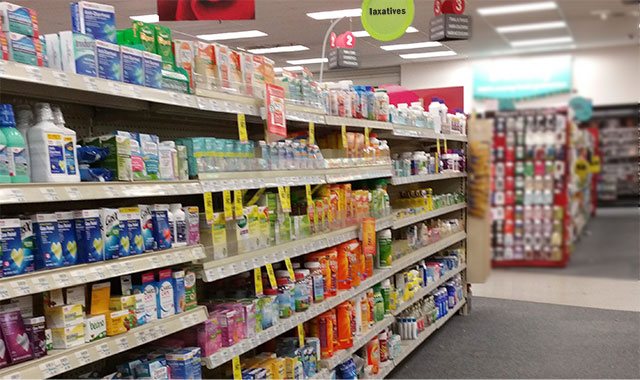 So, ask yourself — how is it possible that the same proud country that was able to fly people to the moon and back home in 1969, can't figure out 45+ years later how to prevent and resolve lifestyle-related colorectal disorders without resorting to a truckload of toxic laxatives?
The answer is simpler than you may think — American gastroenterologists, let alone rank-and-file family physicians, not only don't know how to treat these conditions, but oftentimes they may cause even more harm by prescribing the wrong treatments and recommending inappropriate diets.
It is simply inconceivable that so many millions of people would suffer from lifestyle-related colorectal disorders if their doctors had a clue. With this in mind, please suspend your judgment for a while and study the following chapters with as much effort and intensity as you would apply to finding a "good doctor" who may not exist:
Dietary fiber, eight glasses of water, and a low-fat diet — the sacred cows of American nutritional dogma — break natural bowel movements, and cause hard stools, irregularity, constipation, or constipation-predominant IBS. When patients seek medical help, they are routinely recommended to add more fiber, drink more water, and reduce fat even further.
This misguided and harmful advice guarantees hemorrhoids and diverticulosis to virtually anyone, and it is behind the epidemics of inflammatory bowel disease and colon cancer. This chapter condemns this pig-headed practice and teaches you how to restore natural bowel movements without resorting to fiber and laxatives. Read…
Bulls feast on grass and hay — as fibrous a  diet as it gets. Not surprisingly, bulls' droppings are large, and somewhat similar to the fiber-laden stools of humans. This 'in-your-face' title is wordplay on three concurrent ironies — health-conscious Americans falling for popular 'bull' about fiber, eating a bull-like diet, and suffering from bull-like stools, — the 'genesis' of practically all colorectal disorders.
This section also identifies fiber as the key driving force behind the epidemics of autism, juvenile diabetes, and the omnipresent PMS. Read…
Healthy, intestinal bacteria are vital for forming stools, maintaining immunity, synthesizing essential vitamins, and protecting the colon from cancer.
After the bacteria get damaged by antibiotics, laxatives, heavy metals, surgeries, or colonoscopies, fiber is broadly recommended to form stools instead.
But unlike live bacteria, fiber can't perform any of the bacterial functions which are absolutely essential for humans other than bulking-up stools and stimulating defecation. The loss of these functions contributes to impaired immunity, diabetes, obesity, hair loss, eczema, seborrhea, anemia, internal bleeding, ulcers, strokes, cancers, and common gastrointestinal, respiratory, and autoimmune disorders.
Despite all of these well known and thoroughly studied facts, the American medical establishment adamantly refuses to recognize the role of intestinal flora in health and longevity, and does everything possible to obliterate bacteria with the indiscriminate use of antibiotics starting literally at birth. Then, it profits enormously from treating the resulting diseases. This chapter outlines the role of intestinal flora in human health and explains how to restore it. Read…
To preserve life-long colorectal health and prevent colon cancer, a healthy person should move the bowels after each major meal, or at least twice daily. Because circumstances are rarely ideal, many people tend to suppress urges and skip stools. This leads to hardening of stools, straining, enlarged hemorrhoids, and anorectal nerve damage — the primary conditions behind irritable bowel syndrome and chronic constipation. Finally, one day, fiber or laxatives are needed to initiate a bowel movement because the urge sensation has gone for good. This chapter will help you to restore anorectal sensitivity without resorting to fiber and/or laxatives. Read…
Fiber bulks up stools. Enlarged stools transform colorectal organs and cause a physical dependence on fiber to move the bowels. This dependence is similar to drugs, tobacco, or alcohol addiction: no fiber — no stools, no stools — no go… This outcome is well familiar to anyone who has failed a low-carbs diet because of severe constipation or rock-hard, small stools.
This chapter explains how to overcome this unhealthy dependence on fiber without resorting to laxatives. It is essential for anyone who wants to reduce fiber consumption, and especially useful for people who wish to lose weight by following the popular low-carbs diets. Read…
Not so long ago, adult diapers existed primarily in Saturday Night Liveskits. Today, bowel incontinence affects up to 10 percent of adult men and up to 15 percent of adult women [link].
By any measure, these numbers are shocking. I looked up the 1972 edition of The Merck Manual of Diagnosis and Therapy—the world's leading medical reference—and couldn't find a single mention of the term "fecal incontinence" there. Two generations later, adult diapers occupy one of the largest sections in our neighborhood drugstore: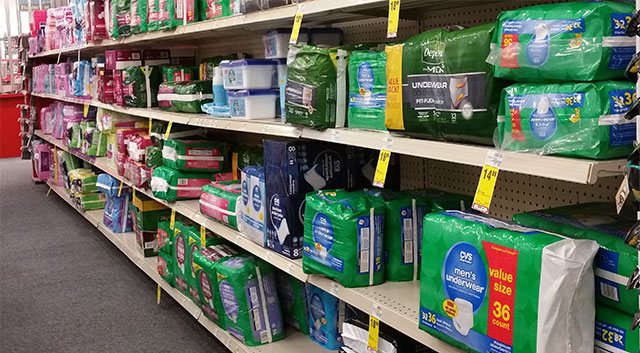 And as Americans grow older, the extent of this problem becomes even more shocking: "Two nursing home studies have identified a 45.0% to 47.0% prevalence of bowel incontinence among residents" [link].
If you plan to retire one day and would like to enjoy the spoils of your hard work and good luck, this site will help you getting there without wearing a diaper.
Konstantin Monastyrsky,
Author of Fiber Menace and GutSense.org